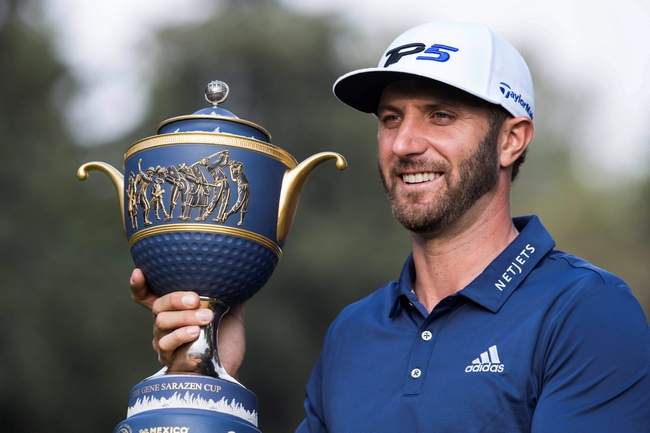 Current World's Number 1, Dustin Johnson Clinches WGC-Mexico Championship Title
Round three of the WGC Mexico Championship was even more entertaining than the first and second rounds. The WGC championship like many other major championships has its own pomp. The prize fund is attractive and its one way to rake those world rankings points. So obviously, none of the golf stars want to miss out on the action. But, golf is an unpredictable game. Rory McIlroy despite still recovering from this rib injury led the field in the first and second round of the tournament.
But by the end of the third round, it was Justin Thomas who led the field after carding a 12-under 66. Dustin Johnson posted an 11-under par and Jordan Spieth surprised everyone after he carded a 7-under 63 rising 31 spots up the leaderboard. McIlroy's third round was disappointing after he slipped back to tie with Mickelson for third place with a 10-under par.
Mickelson display of skill throughout the four days was nothing but magical. The way he and saved birdies and recovered shots from the trees and bunkers was simply remarkable. The crowd was awed and even McIlroy as well as the other players, was impressed.
The final round played on Sunday was no less entertaining. The current world's number one Dustin Johnson outplayed the entire field posting a 3-under 68 to walk away with his second win of the season and a prize fund of just over $1.6 million.
"It means a lot," Johnson said. "There was a lot of pressure, but I came out and hit the ball great all week. The greens, you know, they're tough, and I didn't feel I putted my best. But I played just well enough."
The Spaniard bagged the 2017 Genesis Open title in February, a win that saw him rise to become the world's number one in the World Golf Ranking. This is his fourth WGC win and he is the second player to have this many WGC wins. The first is Tiger Woods with a total of 18 WGC wins.
Justin Thomas had a one shot lead going into Sunday's round, but his dream to bag a fourth win in the PGA Tour quickly dwindled as he slipped back on holes 3 and 4. He posted a 72 at 11-under tying for fifth with Thomas Pieters. Each player walked with a payout of $312,500.
Mickelson and McIlroy tied at 7th place after finishing at 10- under each walking away with a cash prize of $211,667.
I was hoping to improve as the week went on," McIlroy said. "That was obviously the plan; that's the plan every week. I hit it pretty well every day, but the course changed a little bit as the week went on and I didn't quite adjust to it. First week back it's OK, but being two ahead going into the weekend, obviously I'm disappointed with the finish."
Ross Fisher and Jon Rahm tied at 3rd place at 12-under each walking away with $497,000. Tommy Fleetwood took second place after posting 13-under and walked with a cash prize of $1,045,000.