Golf Breaks in England: The AGS Southern Mackenzie Trail
This MacKenzie Trail takes you to our six most authentic Dr MacKenzie courses in Southern England. There are five different types of golf course in England and by chance, this trail includes them all. Two courses are seaside links golf courses, one is moorland, one is heathland, one is downland and one is parkland.
Three of these courses are also in our Top 100 Trail. For accommodation, we have selected a golf resort near Exeter, a hotel in the famous City of Bath, a hotel in North London but you could equally stay in the West End of Central London if preferred. On the South coast a hotel at Lewes between the pleasant seaside towns, Brighton and Eastbourne.
You start the trail at Teignmouth golf club which is dedicated to the "Course Doctor's" layout, demonstrated by their MacKenzie Festival week in June each year with visiting golfers invited to a series of Open competitions.
England Golf Break Itinerary
| | |
| --- | --- |
| Day 1 | Arrive at London drive to Woodbury Park Hotel & Golf Club near Exeter for two nights. |
| Day 2 | Play Teignmouth, a great moorland course that boasts 11 MacKenzie two-tier greens. They also have a MacKenzie Festival week each June with many Open tournaments. |
| Day 3 | Drive to Weston Super Mare, one of the 'Course Doctors' few links golf courses in the UK, Being an admirer of St Andrews Old course at Weston he designed a copy of St Andrews 17th 'Road Hole'. Overnight at the MacDonald Bath Spa Hotel in the City of Bath. |
| Day 4 | Drive to the West Park Lodge Hotel at Hadley Wood, North London. Play Hadley Wood, a gem of a parkland course considered a blueprint for the "Course Doctor's" 13 principles including raised plateau greens, some of them sporting two tiers and guarded by strategically placed bunkers. There is also a striking Georgian Clubhouse. |
| Day 5 | Drive to the Pelham House Hotel at Lewes for three nights, play Willingdon which we believe is the only 'Downland' MacKenzie course. Dr. MacKenzie's design is essentially unchanged today. |
| Day 6 | Play Littlestone Championship course a demanding links course on the South Coast. Unusually they let visitors play from the back tees or any tee that they choose. |
| Day 7 | Play Crowborough Beacon, it has captivating charm being delightful undulating heathland. It is some 800 feet above sea level with panoramic views over the South Downs. The fairways are springy heathland turf The course is essentially unchanged, a chance to enjoy an excellent MacKenzie course in a beautiful location. |
| Day 8 | Depart from London Airport |
Teignmouth Golf Club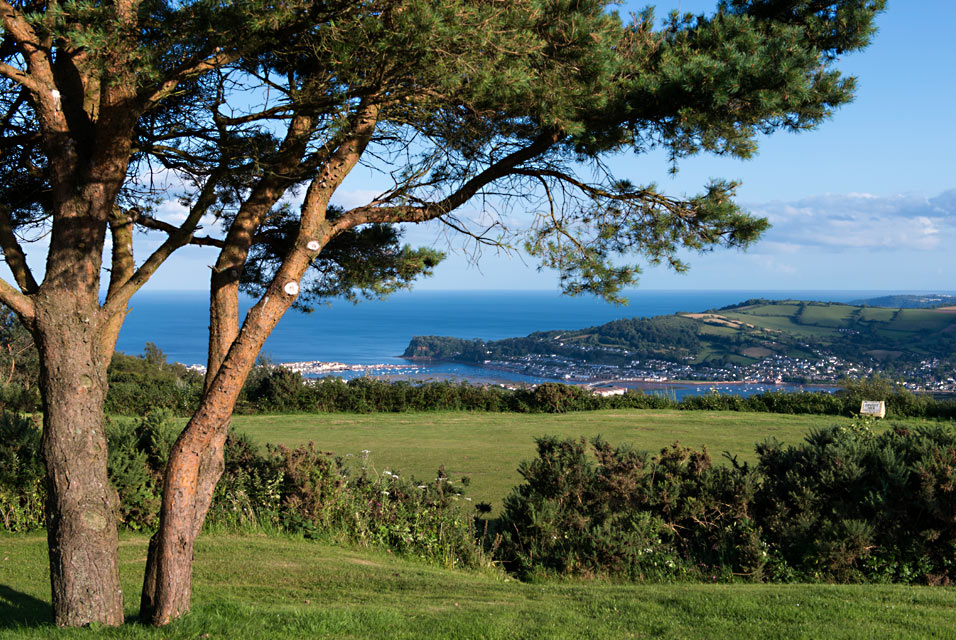 Teignmouth's course is situated near to the South Devon coast. It is laid out in a magnificent situation on the high moor of Little Haldon, over 800 feet above sea level. It commands spectacular views of the sea and nearby moors. To the west is Dartmoor, rising in the far distance into the grey bastions of Hay Tor, Saddle Tor and Rippon Tor. To the north lies the hinterland of Devon and the Blackdown Hills.
This moorland links golf course presents a great test of golf for players of all abilities. Features include six varied and challenging par 3s and no fewer than 11 two-tier greens, a true MacKenzie trademark.
The club holds a MacKenzie 'Festival Week' each June featuring up to 8 rounds of Open competitions. It is a festival of golf on a superb course with panoramic views of the Devon coastline and countryside.
Weston-Super-Mare Golf Club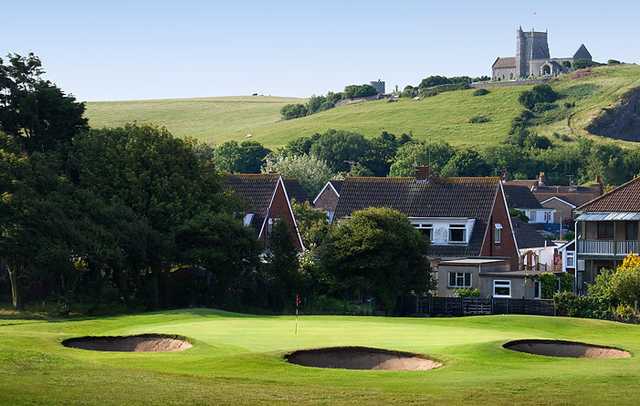 Weston-super-Mare Golf Club is an attractive links course situated at the southern end of Weston Bay, with superb views across the Bristol Channel. The course is an easy walk but the wind often plays a decisive role in making a good score. In summer the greens are fast and true; the fairways tight and the rough punishing.
The signature hole is the 15th – a 458-yard par 4 which was modelled by the designer Dr. MacKenzie on the 17th at St Andrew's Old Course and named 'Road Hole'. The 15th is also the start of the tough finish. It is followed by the Par 3 16th normally against the prevailing wind. Then the dogleg par five seventeenth and the tricky par-four eighteenth.
This has out of bounds on the right and back of the green and heavy bunkers to the left. This means that you are often laying up short in two then hoping for a chip and a putt for your par. Another signature hole is the 7th which is a beautiful par 3 hole playing 154 yards aptly named "four eyes" due to the four-pot bunkers that stare straight back at you when teeing off. Each hole is different and there are no weak ones.
Hadley Wood Golf Club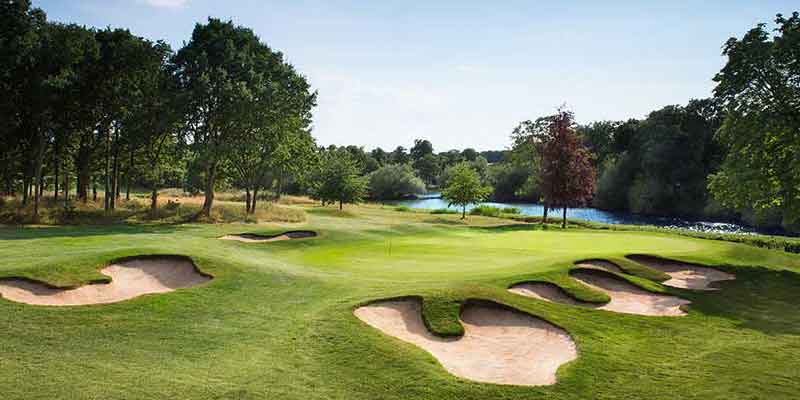 Hadley Wood is a Dr Alister MacKenzie design which is engaging as well as challenging. It represents the golden age of course architecture and is the jewel in the crown of North London parkland courses. It could be a blueprint for the "Course Doctor's" 13 principles including raised plateau greens, some of them sporting two tiers and guarded by strategically placed bunkers.
There are two distinct loops of nine holes and each hole is entirely unique and requires a different technique to be used and needs a full selection of clubs.
The course plays 6,517 yards from the back tees, in the classic four par-fives and four par-threes configurations and lives up fully to its par 72. It is challenging, enjoyable and thought-provoking with some long drives down the fairways and other holes which require accurate and precise putting.
Willingdon Golf Course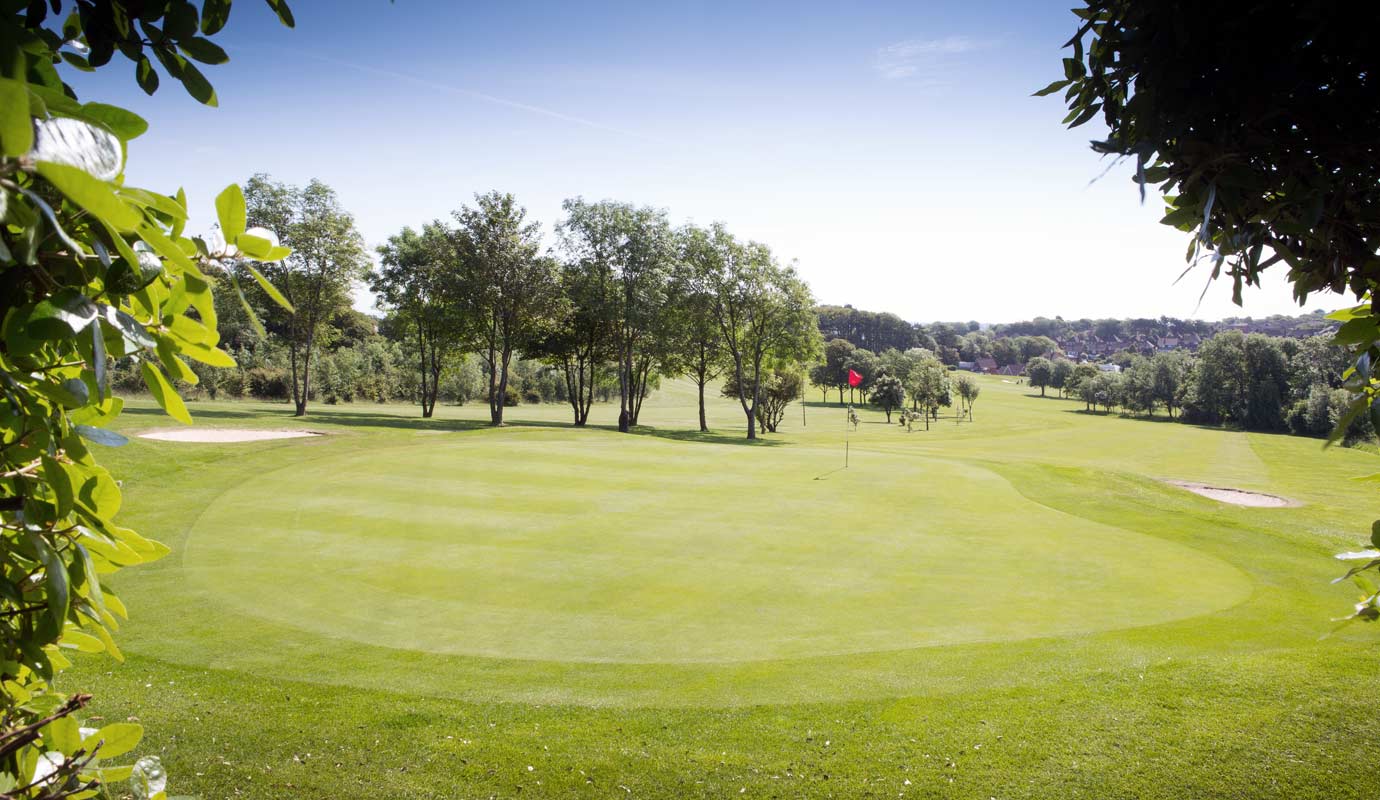 Willingdon Golf Club is situated on the outskirts of Eastbourne and is the only 'Downland' course that we have identified as a MacKenzie design. Downland refers to low chalky hills typically found in Southern England. From its highest parts, there are spectacular views of the English Channel and the Sussex countryside.
The unique layout of the course ensures that play can be commenced at either the 1st, 9th or 15th holes which are all conveniently located near to the clubhouse. Throughout the year it is a perfectly manicured course with slick greens that are the envy of many other clubs. Measuring 6,158 yards from the competition tees it is a stern test of golf for players of all abilities.
It is built into a beautiful in a bowl of the South Downs. When the wind swirls it makes club selection extremely important. The small size of the raised greens means that any half club less chosen and the ball rolls back down the fairway. Note that swirling winds and raised greens are both traits of Augusta National also designed by Dr MacKenzie.
Littlestone Championship Links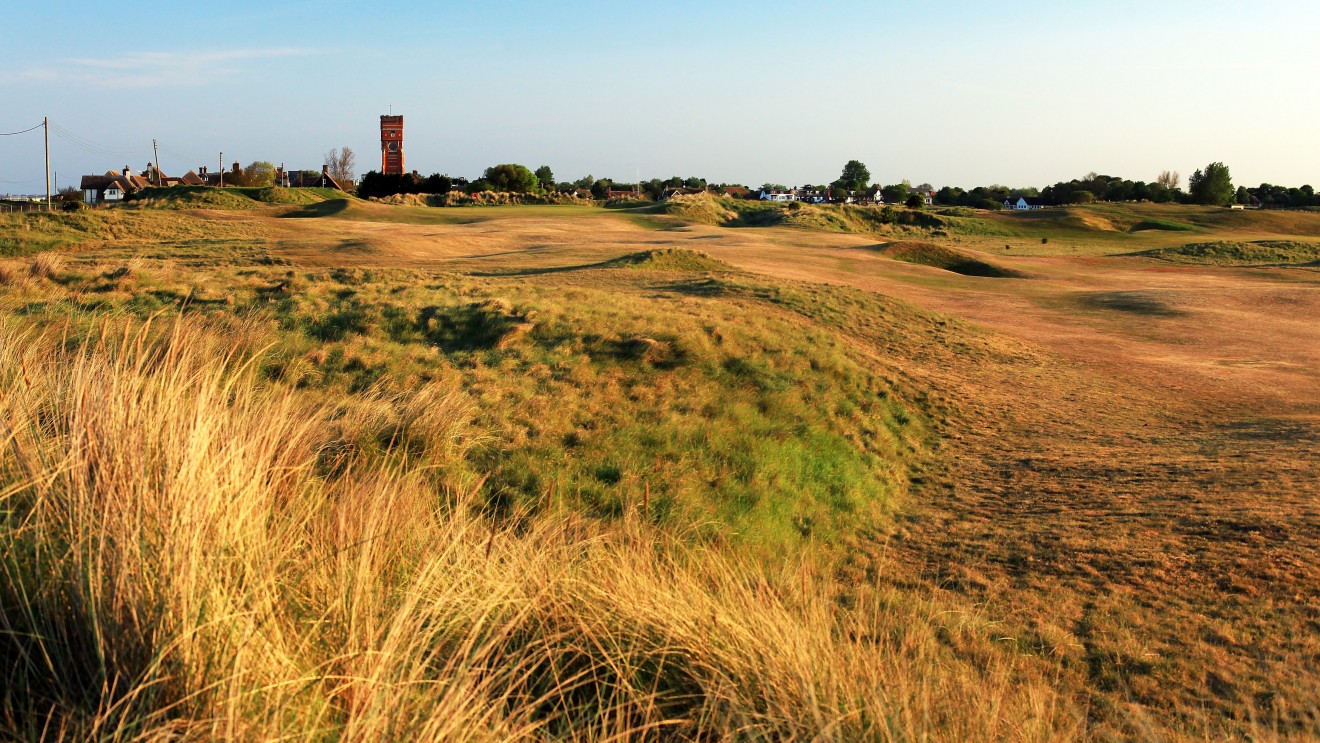 The club was founded in 1888 and has hosted many major championships in a long and distinguished history. It is unusual in that as a visitor, you are classed as a "Member for the day" and can play from any tee you wish. It is particularly known for its magnificent greens as they are some of the best examples of firm, true and well-paced putting greens in the UK.
The course plays across fairly flat links land with a range of sand dunes. Everything is in view from the tees including a significant number of bunkers. There are numerous good holes and In keeping with MacKenzie principles, the finishing holes are very tough. It is 6676 yards from the back tees, par 71.
Crowborough Beacon Golf Club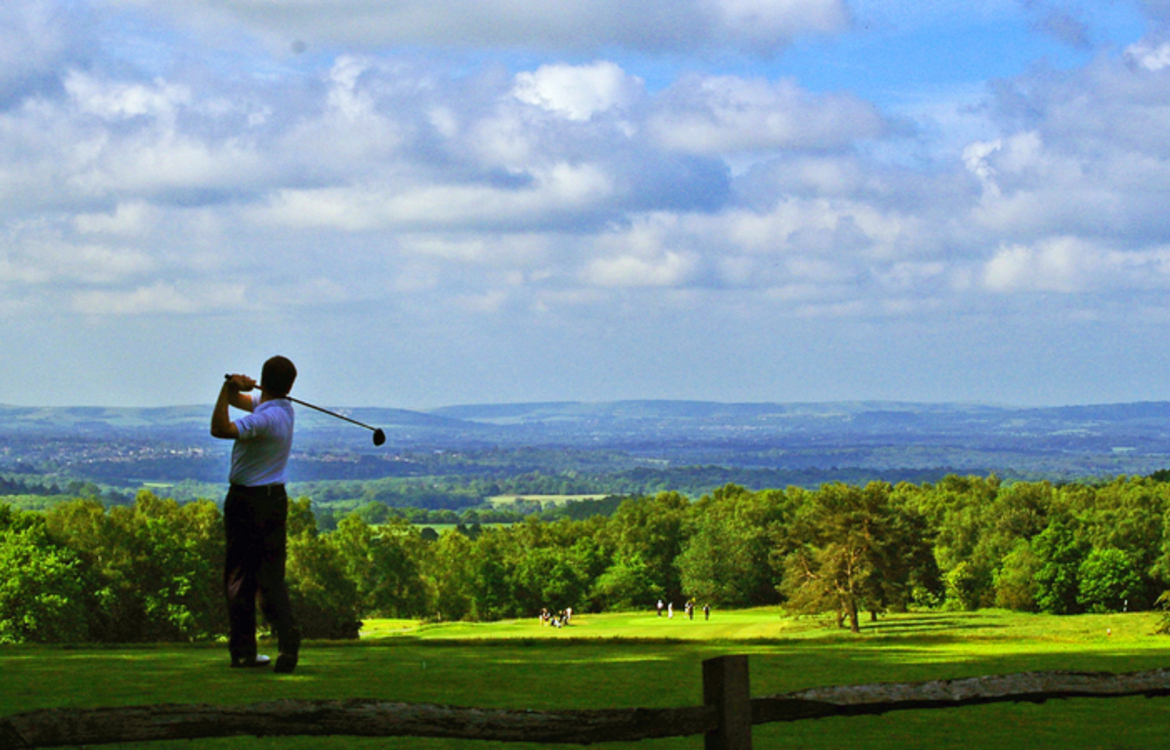 The golf course has a captivating charm being delightful undulating heathland. It is some 800 feet above sea level with panoramic views over the South Downs. The fairways are springy heathland turf. It is an area of outstanding natural beauty and the golf club, as owners of Crowborough Common, are responsible for maintaining it as natural heathland habitat.
From the tees, only bunkers punctuate the natural landscape and finding the right place on the fairway is often easier said than done. Accuracy is normally more important than length and hitting the small greens can be a challenge. The signature hole is a 190-yard par 3 called 'The Speaker'. Your tee shot is across a gully avoiding a large pit to the left of the green. It is 6319 yards from the back tees and par 71.
Learn more about our England Golf Tours here. See our English Open Golf Tour, London Golf Tour and do some border-hopping and see what's what in Wales & Scotland.
Contact us today to book!