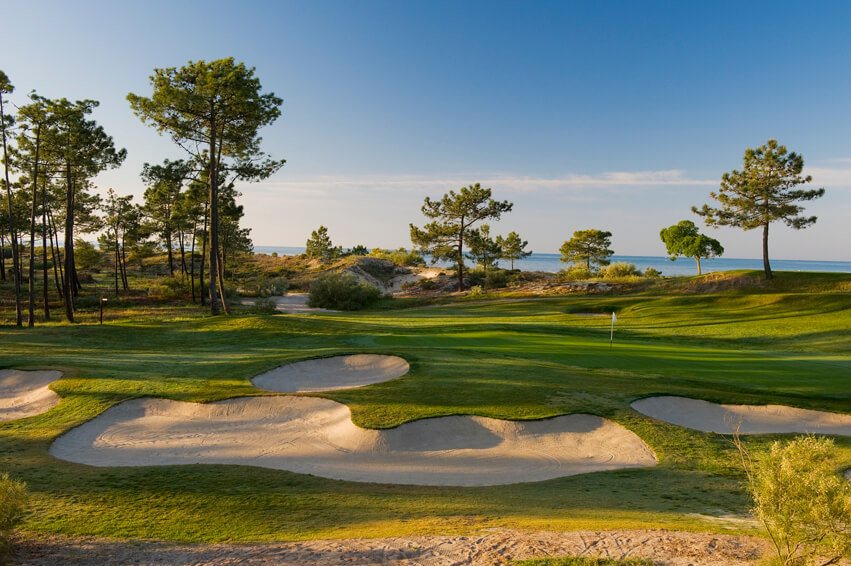 Golf In The Sun - Portugal: Lisbon Area Series 2
Golf in the Sun
There are two excellent golf tour areas in Portugal, the Algarve on the south coast and Lisbon area on the west coast. If golf is your top priority then the Algarve is just ahead. For golf, culture and sightseeing you may prefer Lisbon covered in Series 2. Both areas have excellent beaches and a great climate for golf.
Portugal – Lisbon area – Series 2
Stunning Golf and enjoy charismatic, vibrant Lisbon
Introduction
There is quality golf in the Lisbon area but it is rather more widely spread than the Algarve. We have identified three areas of quality golf which we treat as modules when creating personalised golf tours with Lisbon nearby.
The central module is based upon Cascais, north of Lisbon on the Estoril coast. It is easy from here to travel into Lisbon to enjoy this vibrant and interesting city. It takes about one hour by train or typically 45 minutes by road.
The southern module is based upon Setubal and travel into Lisbon is again about 45 minutes by road and 1 hour by train. The third module is further north on the Silver coast near Obidos.
We typically promote 7 night golf tours with two locations, Cascais and Setubal or Cascais and the Silver coast.
Typical selection of six leading golf courses can be:
Cascais and Silver Coast: Cascais area, Oitavos Dunes played twice, Penha Longa, Silver coast, West Cliff, Praia D'El Rey and Royal Obidos,
Cascais and Setubal:Cascais area, Oitavos Dunes, Penha Longa, Setubal area, Troia played twice, Quinta de Peru and Aroeira 1.
Check out our Portugal Golf Tours here.
The Portuguese offer a relaxed welcome to foreign tourists. They are generally regarded as gentle, good natured, easy going, tolerant but sometimes melancholy. Immigration from their former colonies and elsewhere has led to a cosmopolitan population particularly in the Algarve and Lisbon. The gentle nature however is not so apparent when driving in Lisbon. The driving of the locals is often described as erratic, the traffic markings as poor and the traffic heavy. Parking is also somewhat limited and expensive.
Fado - The unique musical tradition of Fado is essentially the Portuguese blues. Fado derives from the Latin 'fatum' which means fate. The songs are lamenting, plaintive and mourning and grew initially out of hardship and poverty. They are about love, the sea, beauty, poverty and loss. It is thought that these sad Portuguese songs came from various historic sources. These include the music of the Moors occupation, Lundum music of Brazilian slaves in the 19th century and more... Many early songs are related to the sea and faraway lands. Lisbon is a great place to listen to Fado which contains an emotion that is said to resonate with the Portuguese character. This is sometimes described as longing and yearning for something that is lost.
Lisbon is the capital city of Portugal, and is one of the most charismatic and vibrant cities of Europe. It is one of Europe's least expensive capital cities, and offers exceptional value for food, drink and public transport. Entrance fees to historic monuments are sensibly priced.
The city has a welcoming atmosphere, while still embracing its deep-rooted heritage and extensive history. The weather is suitable for spending time on the beach from May until the end of September.
Cascais is a historic town on the Estoril coast 19 miles west of Lisbon. The former fishing village was a resort for Portugal's royal family in the19th century and early 20th century. There are many good restaurants, beaches, surfing, sailing, windsurfing and kitesurfing. The famous Estoril Casino is one of the largest in Europe. Travel to Lisbon can be by the A5 highway or frequent inexpensive commuter trains. From Cascais you can visit Sintra to see the Palacio Nacional, the fabulous Palacio de Pena and the elegant palace Seteais, now a luxurious hotel and restaurant.
Setubal is primarily an industrial city, but is situated in a region of immense beauty. The city is off the common tourist routes so ideal for experiencing typical daily Portuguese life. Enjoy the social cafes of the Praça Bocage or the fishing harbour's delicious seafood restaurants. Try choco frito (fried cuttlefish) in one of the restaurants. Watch for the pod of dolphins that live in the Sado Estuary. Go wine tasting at one of the Muscatel vineyards in Azeitão. Nightlife is exceptional value for money because Setubal is designed for Portuguese visitors or locals socialising.
Obidos and the Silver coast
Obidos is a small town that is wholly bounded by medieval walls. The Portuguese know it as the 'Wedding Town' because ancient Kings gave it to their queen as a wedding present. The town has hardly changed in appearance since then: its cobbled streets and steep staircases wind up to the ramparts, from where you can gaze across a countryside of windmills and vineyards. The wild Silver Coast to the west of Obidos is known by locals as the "Costa da Prata" It has beautiful beaches, stunning scenery and enchanting ancient towns and villages. The rugged coastline is ideal for golfing and there are excellent Golf resorts. Fairs and festivals run throughout the year, so there will typically be interesting cultural events to look forward to.
Western Coast Average Temperatures

Month

Air

Sea

Jan – Mar

17.1 °C, 62.8 °F

14,9 °C. 58.8 °F

Apr – Jun

21.8°C. 71.2 °F

17.5 °C. 63.5 °F

Jul – Sep

26.3 °C. 79.3 °F

19.5 °C. 67.1 °F

Oct – Dec

17.2 °C. 53.0 °F

16.1 °C. 60.0 °F
For a Portuguese Golf Experience please see our Portugal Golf Tours here.