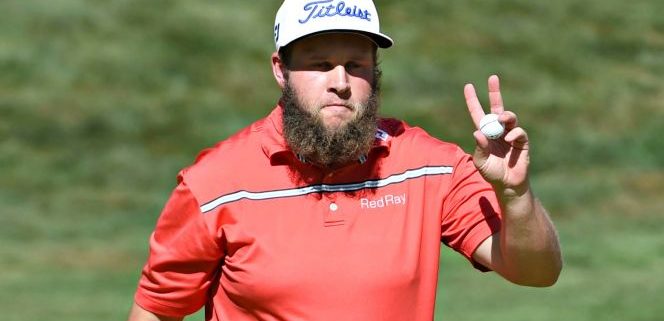 Andrew "Beef" Johnston's PGA Tour Card Clinch
27 year old English golf player Andrew "Beef" Johnston may have finished fourth on Sunday in the Albertsons Boise Open, but he managed to clinch a PGA Tour card for the 2016-17 season that will begin at the Safeway Open next month.
Johnston finished with a 3-under-par 68 at the Boise Open – Web.com Tour Finals second of four events and managed to secure a card for the PGA tour.
The ever jovial Beef with his full-beard and placid demeanour became very popular after winning his first European Tour in April at the Spanish Open. When asked how was planning to celebrate his win, Beef said he was planning on "getting hammered."
After securing his PGA Tour card on Sunday, Johnston expressed his joy saying he had accomplished what he wanted at the Boise Open. Asked how he was going to celebrate, he jokingly responded "A few sodas. I think maybe a Coke and Fanta, something like that. Nah, there's going to be a few beers, man!"
Michael Thompson finished seven-under 64 clinching the Boise Open victory by 3 strokes over Argentine golfer, Miguel Angel Carballo. The win also regained him a PGA Tour card.
Who is this man, Beef?
Andrew Johnston, popularly known as Beef is a London-born professional golf player who has bagged one European tour win and two Challenge tour wins.
Johnston who prefers to be called "Beef" a nickname he acquired in school began playing professionally in 2009. Before that he was a successful amateur golfer, representing the Great Britain and Ireland team and the England boys in the Jacques Léglise Trophy.
Johnston's first European tour tournament was the Alfred Dunhill Championship in South Africa of which he went on to qualify for the Open Championship, his ever first major championship.
He won his very first European tour tournament at the Real Club Valderrama Open de España in April 2016, which made him an instant star not just for his impressive performance, but most of all for his comments about wanting to see his mother and get hammered with his friends.
Before his European Tour win, Johnston had clinched two Challenge tour wins: the Scottish Hydro Challenge in June 2014 and the Le Vaudreuil Golf Challenge in July 2014.
Johnston's most memorable moments
2015 BMW PGA Championship: Beef made a hole in one on the 10th hole
2016 Spanish Open: makes the best ever post-event comment after the tournament
Learn more about Spain Golf Tours here.