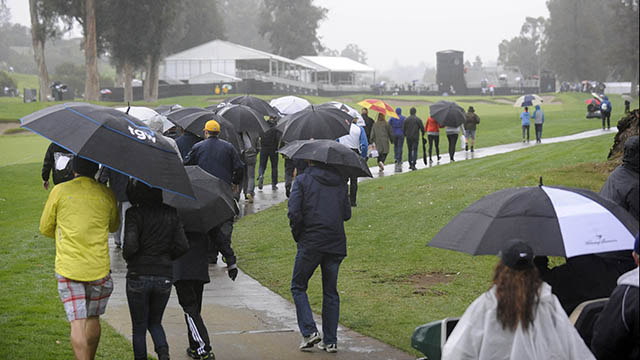 2017 Genesis Open: Bad Weather May Disrupt Golf Tourney
On day one of the Genesis Open, morning fog caused delays and it is unlikely the weather will improve over the weekend as the weather forecast shows that a huge storm is likely to hit California. Friday morning voluntary evacuation orders were issued in some cities as weather experts say that it could be the biggest storm California has experienced in years.
The storm which may be accompanied by destructive wind gusts and heavy rainfall is expected to cause flash flooding, mudslides and even heavy snow in some elevated regions. Unfortunately, the Genesis Open which is being held in California at the Riviera Country Club is smack right in the middle of the dreadful weather.
As it is, on Thursday, the tournament was suspended as darkness fell too early in the day, forcing some players to end the day without finishing their rounds. Only a few players managed to complete their first rounds.
But despite early weather disruptions, Arnold Palmer's grandson, Sam Saunders had a great start in the first round of the Open and was on the lead with a 7-under 64 before play was suspended due to poor light.
Behind Sam Saunders were five players (Dustin Johnson, Brett Stegmaier, Camero Percy, J.T. Poston, and Daniel Summerhays) who posted 5-under-66 to tie at second place.
While these top six players managed to finish the first rounds, the rest of the field of 48 players were not as lucky as play was suspended due to poor light. The players are expected to continue their rounds on Friday.
World's number one, Jason Day struggled a bit in his first round even after carding four bogeys and four birdies. But he is definitely trying his best to hold onto his number one spot in the rankings.
Phil Mickelson tied at 7th place with a 4-under-67 and may prove to be a threat as the game advances if he plays as well as he did on Thursday.
Three-time PGA tour winner Hideki Matsuyama who was paired with Jason Day and Justin Thomas in round one posted a two-under-68 before play was suspended leaving him six shots behind Saunders. The 24 year old has shot up the world rankings after winning three PGA Tour events becoming the only Japanese to win three major events.
Defending champion Bubba Watson who has won this event twice played poorly after posting a 2-over-par, whereas Jordan Spieth posted a two-under par.
The Genesis Open ends on the 19th where the winner will walk away with the title and a handsome prize fund of $7 million.