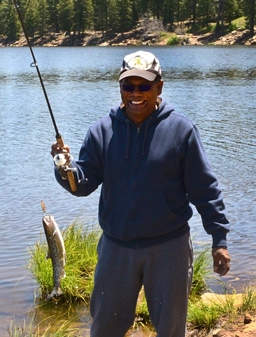 Tiger Woods and Bass Pro Shops Owner Announce Project to Honor Payne Stewart
What did Tiger Woods do after he won the 1997 Masters? In a statement released this week, apparently, he bought a Bass Tracker fishing boat from Bass Pro Shops. And in one of the great displays of customer service of all time; Bass Pro Shops owner, Johnny Morris and son personally delivered the boat to Woods. Then they then spent the day fishing; no word on whether they caught anything.
"You really get to know a person when you're able to spend quiet time on the water fishing together. My boy and I were both very impressed by how down to earth and engaging Tiger was, and by how much he loved to fish," said Morris.
The old fishing buddies have reunited to create the "Payne's Valley" Course to honour the legacy of Payne Stewart in the Ozark Mountains. This is the first public access golf course by TGR Design. Set to open in 2019, the championship course will feature a dramatic 19th hole, "The Rock." We envision a "Dave & Buster's-Disney World-Top Golf-Las Vegas-Blue Martini" hybrid offering sensory overload for golfers.
Tiger Woods Course rendering, course set to open 2019
"I couldn't be more proud to partner with Johnny Morris to debut my first public-access courses at Big Cedar Lodge," said Tiger Woods. "Johnny's incredible passion for connecting people of all ages and walks of life to nature is truly inspiring. Together we're tremendously excited to create a publicly accessible world-class golf experience in the center of America."
The Payne's Valley golf course and more are additions to the Big Cedar Lodge wilderness resort also owned by Bass Pro Shops founder Johnny Morris. The 4,600-acre lakeside retreat offers a variety of nature-based experiences such as fishing, shooting, boating, hiking, spa and wellness experiences.
All this and they had Hank Williams Jr. live in concert on April 20th; a lot of good things happening in the "Show Me State" and much more to come.
In addition to the boat, hopefully, they also brought Woods a proper fishing shirt!
With thanks to worldsbestgolfdestinations.com for the original content
For great Golf Tours and Fishing destinations in Scotland, visit https://www.agsgolfvacations.com/scotland-golf-tours
How about a Golf and Whisky Tour? Check out our exclusive package HERE