Arnold Palmer, Golf Legend, Dies at 87
U.S. Golf legend Arnold Palmer passed away on Sunday afternoon at the University of Pittsburgh Medical Centre Shadyside hospital in Pennsylvania. He was 87.
Palmer's spokesman Doc Giffin informed ESPN of his passing saying "I'm just so heartbroken about it. As much as Arnold Palmer meant to the world, he meant that much and more to me."
Palmer had been admitted at the UPMC Shadyside hospital for heart tests, but complications arose. According to his agent, Alastair Johnston, the complications are what led to his death.
Nicknamed "The King," Palmer was an exemplary golf player who had bagged over 90 tournament wins and 7 major wins during his golfing career.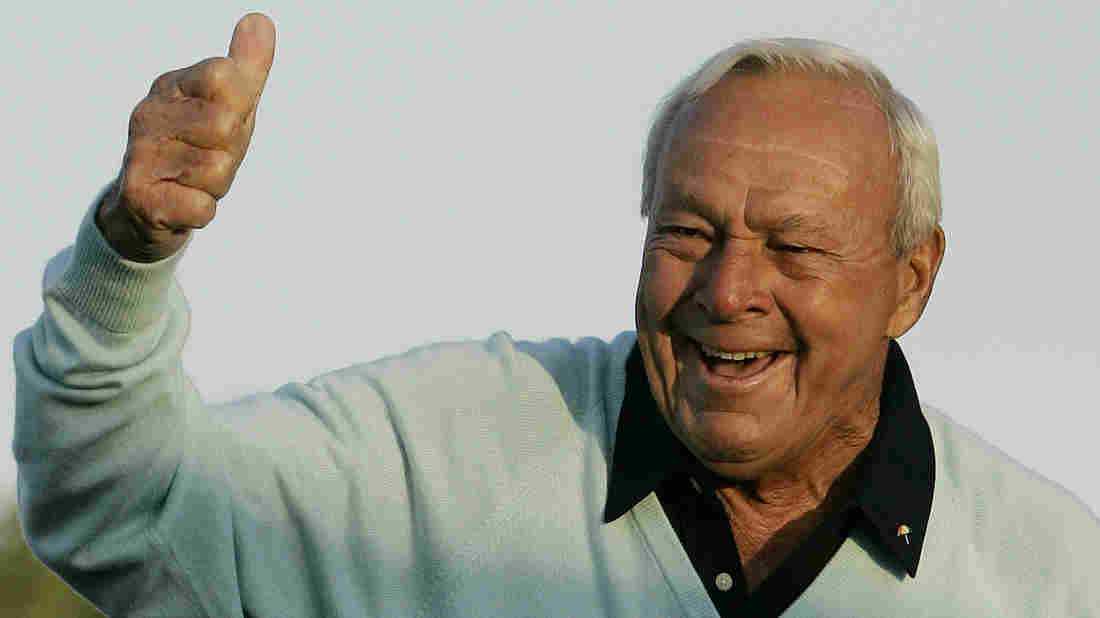 Career
Arnold Daniel Palmer played a major role in changing the belief that golf was a pastime activity for the elite. He was part of revolutionising the game of golf and by doing so, he also became one of the most respected golf players in the world.
Palmer and golf legends, Gary Player and Jack Nicklaus are recognized and honoured for having popularized and commercialized the game of golf, which became accessible to working and middle classes.
Palmer who came from a humble background learned how to play golf at a very young age, thanks to his father. He began playing professionally in 1954 and rose to stardom in1955. By the late 60's, Palmer had won 4 masters tournaments, one U.S. Open, two Open Championships and two PGA championships. In 1970, he won another PGA championship.
He achieved the most success between 1960 and 1963 when he won twenty-nine PGA Tour events including 5 major tournament wins.
During his golfing career, Palmer also won several awards including the PGA Tour Lifetime Achievement Award, the Bob Jones Award and the Payne Steward Award.
The two time "PGA player of the year" winner made it into World Golf Hall of Fame in 1994.
Palmer also had a successful golf business career including the founding of The Golf Channel; owned a private golf resort – the Arnold's Palmer Bay Hill Club and Lodge and established the Arnold Palmer Design Company, which has designed more than 200 courses worldwide.
Palmer has left behind his wife Kathleen, two daughters, six grandchildren, many grandchildren, one brother and two sisters.
Palmer will be dearly missed by friends, family and the many people who loved and respected him.
Tributes
US President Barrack Obama
" Here's to the King who was as extraordinary on the links as he was generous to others. Thanks for the memories, Arnold."
Jack Niclaus
"Arnold transcended the game of golf. He was more than a golfer or even great golfer. He was an icon. He was a legend. Arnold was someone who was a pioneer in his sport. He took the game from one level to a higher level, virtually by himself. … We were great competitors who loved competing against each other, but we were always great friends along the way. Arnold always had my back, and I had his. We were always there for each other. That never changed. He was the king of our sport and always will be."
Tiger Woods
"Thanks Arnold for your friendship, counsel and a lot of laughs. Your philanthropy and humility are part of your legend. It's hard to imagine golf without you or anyone more important to the game than the King."
Phil Mickelson
"I'm saddened by his death, but I'm a better player and perhaps a better person thanks to his example."
Jason Day
"So sad to hear Mr. Palmer has passed away. He touched us all and was an incredible role model. The KING."
Royal & Ancient CEO Martin Slumbers
"Arnold Palmer will be missed and forever remembered by all at The R&A and throughout the world of golf as a charismatic and global champion of our game."
Golf Digest
"Arnold Palmer has passed away at 87 years old. Rest in peace, Arnie. You are forever a legend in golf and in life."
Magic Johnson
"Rest in Peace to the legend Arnold Palmer. May God bless his family and friends."
Pele
"My heart aches with passing of the King…Mr. Arnold Palmer. What he did for golf cannot be measured."
Scott Bowman
"After winning the Cup with Pittsburgh in 1992 Arnold Palmer sent a congratulatory note to me, which I still cherish What an ICON and LEGEND."
The staff here at AGS Golf Vacations send our respects to Arnold Palmers family.