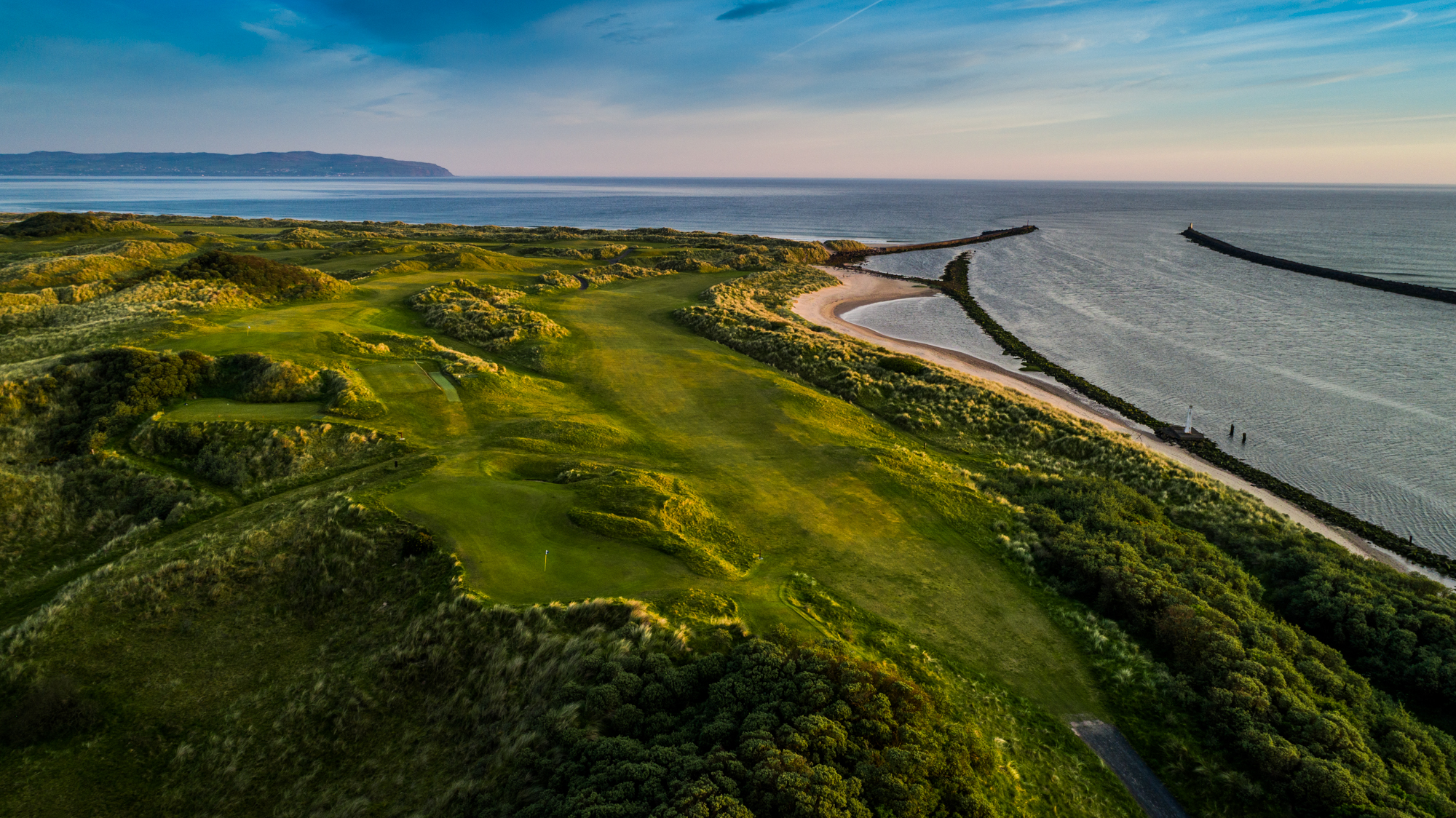 Northern Ireland – Golf in County Derry
Introduction
Links golf in County Derry is centred on Portstewart and Castlerock which are at the Western end of the famous Causeway Coast. They are linked to the City of Londonderry (also known as Derry) by a single track railway which takes about 30 minutes and runs through spectacular scenery. Derry is the second largest City in Northern Ireland and the 4th largest in Ireland.
Portstewart Golf Club has three 18 hole true links courses. The Strand is an exceptional Championship course and the Old and Riverside are most suitable for higher handicap players and beginners to get links experience.
Portstewart Strand is said to have the best front nine in Ireland and is often compared for this with Royal Aberdeen in Scotland. Whereas the back nine is not so dramatic it is also quality golf. Sometimes known as
'The sleeping giant' it has undulating dunes, run off to bunkers, rolling fairways and tricky manicured greens. You need a variety of shots and good strategy to score well on this masterpiece of a golf course. From the first tee on an elevated platform the view is dramatic and panoramic as you drive over ridges and dune structures into a dogleg. 7118 yards, Par 72
Portstewart Riverside is a beautiful links meandering along the banks of the River Bann. It is perfect for society groups and for those not ready for the difficulty of the Strand. 5725 yards, Par 68

Porstewart Old Course is a good links for groups, holidaymakers and golfers just starting out. The front 8 holes are perched along the rocky shore, east of Portstewart town. The back 10 holes are on the landward side. These historic fairways have been walked since 1894. 4822 yards, Par 64
Summary of Portstewart History
The club was founded in 1894; the course was 9 holes, length 1495 yards, at the existing Old Course location. In 1904, an extension provided a more challenging nine holes. Then in 1916, after acquiring more land 12 holes were opened in 1918, followed by 18 in 1934. The layout was then similar in most respects to that of the present Old Course. The first Clubhouse in 1895 was a 'Tin Shack', replaced in 1931 with the present clubhouse. In 1920 another 18 holes and a further clubhouse were added, now the Strand Course. Sand dunes known as 'Thistly Hollow' were obtained allowing extra holes to be added in towering dunes. This left 9 holes from the original layout. It was expanded to 18 holes in 2001 and is now the Riverside Course. The club held a qualifying round for Open at Royal Portrush in 1951 and has hosted numerous Amateur Championships. In 2017 Portstewart hosted the Irish Open attracting crowds of over 92,000.[6] The Spaniard Jon Rahm won with a record score of 24 under par. David Drysdale broke the course record for the Strand with 63 on the final day.
Castlerock golf club has a Championship course the Mussenden and the Bann with 9 holes. Some golf writers and others have suggested that the Bann is on a piece of linksland that would complement the best of the Mussenden course. They advocate this could create a course at least equal to its more renowned neighbours Royal Portrush and Portstewart. It is interesting that Rosapenna in nearby Donegal have taken a similar approach on advice from Tom Doak. That is to build the new St Patricks course on the best of the 360 acres available, which previously featured two courses with eighteen holes.
Castlerock Mussenden is a tough links course significantly affected by the wind. It needs to be played with care, keeping your ball in play. The greens are quite quick and are nicely contoured. The par three 4th hole known as 'Leg of Mutton' gets many comments. The tee shot is to a raised green surrounded by four riveted pot bunkers. The bone shape starts narrow from the front, then widens. With the railway all along the right and a burn to clear before the green it sets a good challenge. 6780 yards, Par 73
Castlerock Bann links is greatly admired by reviewing experts despite its modest length. They appreciate the rollercoaster layout played over tortuous terrain, the wild high dunes, doglegs, blind shots and severe elevation changes. It is a modern course created in the style of a traditional layout with old fashioned merits. The 3rd is a Par three of just 92 yards. It has a narrow entrance to a long slim green. 2466 yards, Par 34
Summary of Castlerock History
Founded in April 1901, the formal inauguration of the links took place in June with an open stroke competition for prizes valued £3, £2, and £1-0-0. The original course comprised nine holes and a suitable clubhouse had been built. Additional land was leased in 1908 and Ben Sayers, the professional from North Berwick in Scotland, was commissioned to design an eighteen hole layout that opened in 1909. The opening competition then took place with 18 holes of medal play under handicap with an entry of over 30 players, but only four cards were returned. Mr. A.H. Craig - Gross 89, H. Scr. Nett 89. Mr. J.C. Glendinning - Gross 102, H. 13, Nett 89. Mr. J.G. Magee - Gross 110, H. 21, Nett 89. Mr. W.J. Donnell - Gross 99, H. 9, Nett 90. Harry Colt made modifications to the course in 1925. In the 1980's the Bann Course was laid out by Billy Kane to a design by the late Frank Pennink. Martin Hawtree was commissioned to renovate the Mussenden course in 2017. Castlerock has hosted many National Championships both Amateur and Professional.
Three things to do in County Derry
A coastal rail trip - Michael Palin described the train journey between Coleraine and Londonderry and as "One of the most beautiful rail journeys in the world". Taking the train means you travel in comfort, avoid the hassle of traffic and parking and get plenty of time to view the scenery. You can join it at Castlerock for a 30 minute journey to Londonderry.
City of Londonderry – Visit the 17th century walls, they are 20 feet high and Derry is the only walled city in Ireland. It is regarded as one of the best examples of a walled city throughout all of Europe and there is much more to see ……
Porstewart – do not miss Morelli's Famous Ice Cream Sundaes they are often the reason for a visit to this seaside town.