The Kingarrock Hickory Golf Experience in Scotland
When you are in the St Andrews area you can forget the demanding Scottish links for half a day and go 'back in time' and be associated with the history of early golf. We can arrange for you to play 9 holes at Kingarrock golf club where modern clubs are banned, so there's no need to worry about adjusting the loft on your driver.
About one hundred years ago Edwardian golfers typically played with clubs that had hickory wood shafts and Kingarrock is the only course in Europe where you can play 'hickory golf'. They didn't need a trolley or buggy because 5 clubs were sufficient.
After some expert guidance and fascinating history from the clubs PGA professional, you play with authentic original 1900s hickory clubs: a Spoon, a Driving Iron, a Mid Mashie, a Mashie Niblick and a Putter plus softer, rubber-wound balls of R&A 1921 standard and wooden tees.
This experience has been proven to be great fun and a real insight into how our sport was played at a gentler pace in the halcyon days of the 1920s. The course is 2,022 yards or 1849 meters and will take about 90 to 120 minutes for 9 holes. You will appreciate the difference these historically accurate clubs and balls bring to your game.
The ball travels a shorter distance and the clubs generally benefit from a less aggressive swing which makes for a more leisurely game.
Following your round, you can visit Forrester's Cottage where you'll be served with a Fife tradition: a cool, refreshing glass of ginger beer and a plate of shortbread.
Historic note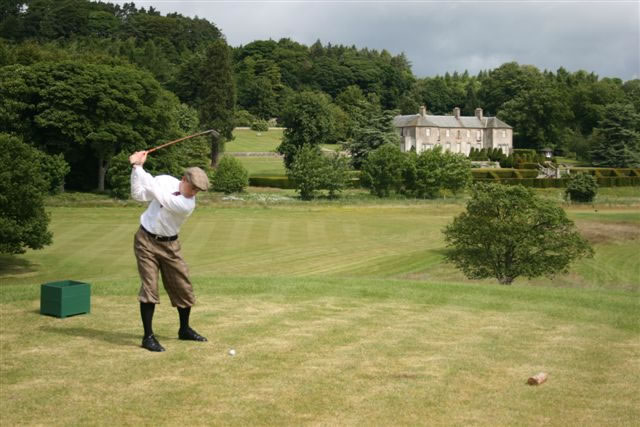 Kingarrock's hickory golf heritage goes back to 1904 when wealthy jute magnate Frederick Sharp bought Hill of Tarvit Mansion House, attracted by the house's proximity to St Andrews' Royal and Ancient Golf Club.
However Sharp soon set about designing a 9 hole golf course on the house's front lawn which became popular with golfers… Frederick Sharp died in 1932 and his son Hugh lost his life in a rail disaster in 1937. With the start of World War Two, the original course was soon commandeered for farming use to aid the war effort.
In the 1990s National Trust Scotland staff discovered a 1924 map of the old course, along with Frederick Sharpe's golfing bag and a number of classic golf paintings around the house. Encouraged by this discovery, David Anderson and family set out to bring hickory golf back to Hill of Tarvit.
They restored the old course to its former glory and making numerous improvements to make it fully suitable for modern players, finally re-opening the course after a 70 year in June 2008. The National Trust took over the ownership of the course in October 2014 and recruited PGA Professional Andrew Bentley to help run it.
To experience Kingarrock Hickory Golf and a sample itinerary, visit our Scotland Golf Tours. See our Best of Scotland Golf Tour, or maybe a Golf & Whiskey Tour of Scotland takes your fancy?
Contact us today to play at some of the best golf courses in the world.