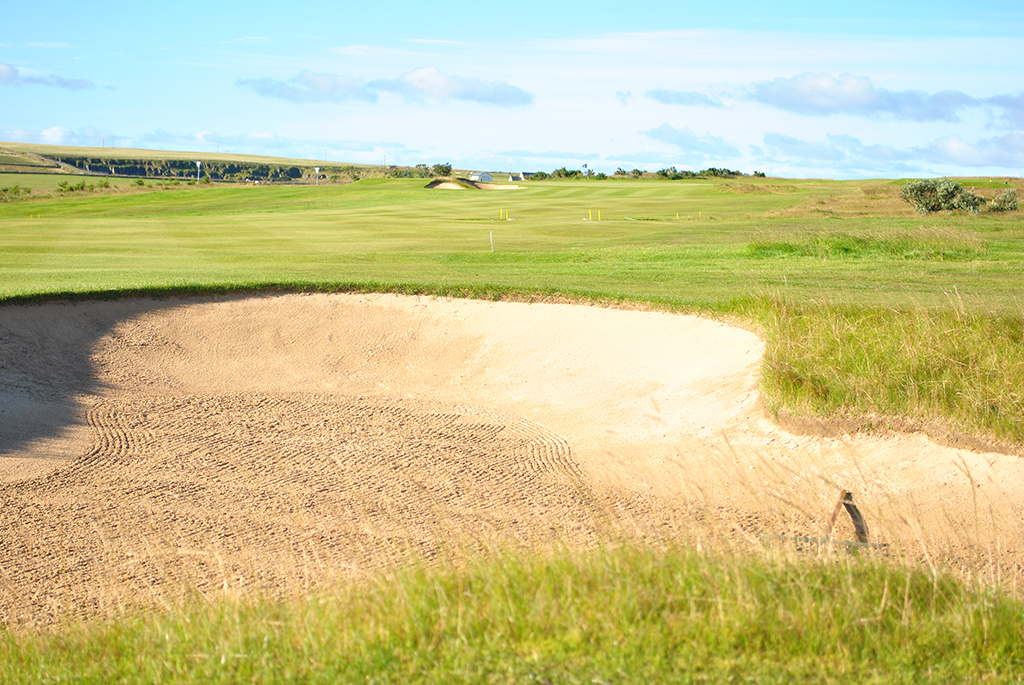 Golf - Off The Beaten Track: Scotland Series 2
Golf Tours in Scotland: The Far North
This series introduces golf courses in remote locations or away from popular golf tour areas. You can start this tour by flying to Kirkwall Airport in the Orkney Islands or to Wick Airport on the mainland. Alternately you can drive to Thurso or Wick on the mainland and take a ferry to Orkney. A variation of this tour could also include the Shetland Islands.
Things to See in Orkney
Orkney is famous for its mind-blowing historic sites.
The "Heart of Neolithic Orkney" is a group of four Neolithic monuments which are recognised by UNESCO as world heritage sites.
Maeshowe
A rare chambered passage tomb aligned so that the central chamber is illuminated at the winter solstice. The Vikings plundered it but left behind one of the world's largest collections of runic inscriptions.
Skara Brae
A Neolithic village of eight houses, the best preserved in Northern Europe
The Standing Stones of Stenness
Four remaining megaliths from a large henge, the largest stone is 6 metres high.
The Ring of Brodgar
A stone henge monument which originally had 60 stones surrounded by a circular ditch. The ditch was about 3 metres deep and 10 metres wide. The stone circle was 104 metres in diameter, it has been predicted that it would have taken 80,000 man-hours to build.
The Ness of Brodgar
Not part of the world heritage site, but is nearby. It is an archaeological site that has provided evidence of housing. There is a massive stone wall with foundations, decorated stone slabs and a large building, possibly a Neolithic Cathedral.
A Typical Golf Tour Itinerary for Orkney and the North Coast
Day 1 - Arrive in Scotland, met by AGS Representative, collect auto or meet your private driver/guide, drive to the Park Hotel in Thurso.
Day 2 – Cross by Ferry from Scrabster to Stromness and to the Stromness Hotel for two nights, Play Stromness, a challenging tricky course with stunning coastal scenery and wildlife. 18 holes, 4804 yards, par 65.
Day 3 – Play Orkney Golf Club at Kirkwall. It is the oldest club in Orkney, founded in 1889. However golf in Orkney dates to the 16th century, probably played on the links at Birsey where this club also started.18 holes, 5575 yards, par 70.
Day 4 – Cross by Ferry to Scrabster, drive to Forss Country House Hotel near Thurso for 4 nights. It is a delightful country house hotel set in the woodland below a waterfall. The restaurant is the only 2AA Rosette restaurant in Caithness. Play Reay, the most northerly 18 hole seaside links in mainland Britain. Laid out by James Braid, its exposed location and challenging conditions requires real shot-making, punched long irons and bump and runs hitting under the wind. 5854 yards, par 69.
Day 5 – Play Thurso, a tree-lined parkland course located on a hill above the town. Many holes are a challenging test playing into a prevailing wind. The course has splendid views of the islands and the surrounding countryside and hills. 5853 yards, par 69.
Day 6 – Play Durness, the nine holes are played from very different tees making it like a traditional 18 holes. With small greens, hillocks and hazards each hole is a unique challenge. The par-five 6th hole beside a loch is exceptional. The signature finishing hole is spectacular where you played over the sea. 5495 yards, par 70.
Day 7- Play Wick, a traditional 18-hole links with generous fairways and fast, firm and true greens. Spectacular views abound. The 18th tee has a magnificent panorama of unspoiled white sands and four Historic Castles. 6123 yards, par 69.
Day 8 – Depart for Airport
Learn more about Scotland golf tours. Check out what's on offer for golf tours around the rest of the UK, as we offer tours of England, Wales and Scotland too. Contact us today to start planning!