Finca Cortesin is Ranked in the Top Five Golf Courses in Spain
Measuring 6.802 metres from the back golf tees, and with more than 100 bunkers, Finca Cortesin is ranked as being one of Spain's best golf courses by Golf Digest Magazine. The excellent weather coupled with the harmonious relationship between the natural Mediterranean landscape and environment, make for an attractive design and perfect setting for playing golf year-round. All of it together creates a perfect balance between 20 varieties of flora, the typical Mediterranean forest and the perfectly manicured Bermuda grass on the golf course.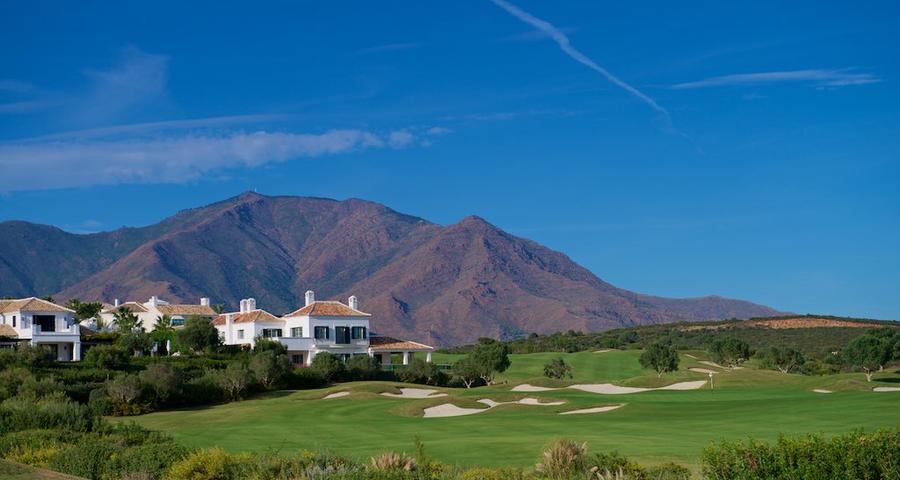 Finca Cortesin hosted the Volvo World Match Play Championship for 3 years, one of the world's most prestigious golf tournaments at a professional level. A demanding par 72, and the 6.802 metres (7.482 yards) in length, make the course a perfect venue to celebrate tournaments at all levels.
The course is very enjoyable and appealing to all golfers with the offering of 5 different tee positions; 5.884 metres for men and 4.840 metres for ladies, including an "executive gold tee" with 5.215 metres.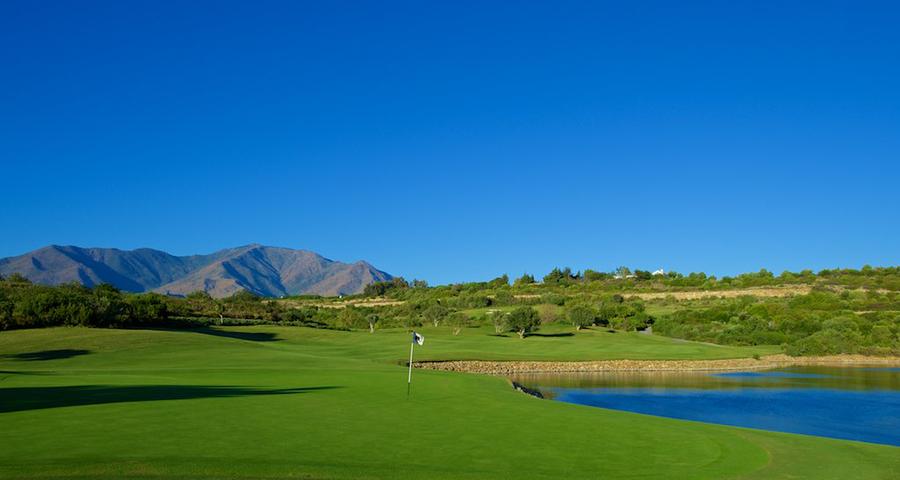 The excellent maintenance of the fairways and greens, and attention to every little detail, will make a round of golf at Finca Cortesin a challenging test of your ability whilst all the time surrounded by an aesthetically exceptional natural and unique environment.
Finca Cortesin Club House
Impressive views over the Mediterranean Sea and the golf course, make the Finca Corestin Club House a perfect place to unwind and relax after an unforgettable day of golf. Services featured here include a magnificent Restaurant with two beautiful terraces overlooking the golf driving range, where the player can enjoy a nice meal, a good coffee or a delicious cocktail. In addition, you will find a Pro shop with all the best golf products, locker rooms and an exclusive member's lounge, all exquisitely and tastefully decorated, with the best quality and service.
Service
Finca Cortesin Golf Club offers guests the best quality installations combined with an outstanding service, which make a day of golf with us a marvellous experience. Each player will benefit from the exclusive bag drop service, fully equipped buggies with GPS System, complimentary practice balls before playing, complimentary fruit and cold water service on the course, as well as a chilled towel service during the summer season. This ensures a marvellous and unique golf experience you won't forget.
If you are looking to experience why Finca Cortesin is ranked in the top five golf courses in Spain, check out our Spain Golf Tours here.