Playing the Old Course at St Andrews
Do you have an ambition to follow in the footsteps of the golfing greats and play St Andrews Old Course, the oldest, most celebrated course in the world? AGS Golf have specialised in helping International golfers to achieve this dream for 15 years.
Consider the different options that follow and contact us to start the process.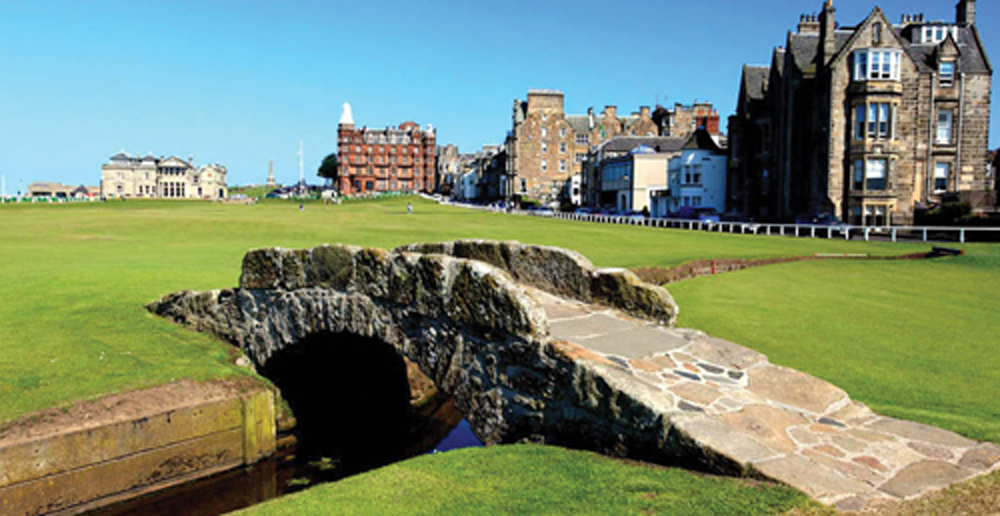 All golfers playing the Old Course must be in possession of a valid handicap certificate showing a handicap of 24 or less for men and 36 or less for ladies.
Option 1. For golfers who can plan ahead Advanced Application.
This is straightforward and a cost-effective way of obtaining a tee time on the Old Course. The Links Trust of St. Andrews will start accepting applications for 2017 tee times on Wednesday 24 August until midnight on Wednesday 7 September 2016.
AGS Golf will assist you through every step of the process advising on various restrictions and the dates to avoid. Accepted applicants will be notified directly by the Links Trust if they are successful within 2 weeks of the closing date for applications.
If you are successful it is a two-round deal with a round on the Old Course and a second round on of the five other 18 hole courses. Your application must be for a minimum of two named golfers and a maximum of eight named golfers for each application. As this process is normally oversubscribed there will be a lottery system to determine the successful applicants.
There is a second date in early January when any unused or returned starting times are resold. Applicants are notified in about two weeks whether they have been successful or not.
Option 2. For golfers who choose a Guaranteed round on St Andrews Old Course from the time they book their tour (No ballot involved).
Guaranteed Booking – has the advantage that you can pre-book now but it is more expensive than Advance Reservations. We will arrange a luxury package for you to stay in St Andrews between April and October with a guaranteed tee-time for St Andrews Old Course, Carnoustie or Kingsbarns and one other highly ranked St Andrews courses.
This is a great method of booking any time of the year; it is a 'first come first served system' with no ballot involved. It allows you to plan your itinerary in advance with guarantee tee-times at all of the golf courses on your planned tour.
Large groups can normally be accommodated with sufficient notice.
AGS Golf are one of the few companies who can offer this guaranteed option.
Option 3 – The Daily Ballot is ideal for golfers who are late booking their tour or fail to get a booking with an Advanced Application. It is the cheapest way to play the Old Course.
Nearly half of the total number of tee times on the Old Course each year is allocated to the Daily Ballot (lottery). This gives people who have been unable to book a chance of playing. Under the ballot system, client's names will be entered in the ballot 48 hours in advance.
AGS Golf staff will notify you of the outcome and your tee-time if successful.
To enter there must be a minimum of two and a maximum of four players per
card. There are a few days through the year when there is no ballot and there is no Friday Ballot because the Old Course is closed on Sundays.
Otherwise there is no limit to the number of days that you can enter the ballot and if unsuccessful on any day we will seek to fill unfilled slots on the Old Course or have a backup game arranged at St Andrews. The Old Course green fee is paid direct to the starter on the day of play by the client.
In the absolute worst-case scenario, you would get up early in the morning on your last day in St Andrews and wait at the starter's' hut. The starter fills out all groups of less than 4 with people standing in line.
Not ideal, but we have never had anyone follow our instructions in this scenario and not play the Old Course!

We recommend staying in St Andrews for 3 to 4 days and allowing 3 or more days for the ballot to maximise your chances.

Option 4 – For the single golfer
Single golfers with suitable handicaps who wish to play the Old Course without an existing tee time should check in at the Old Pavilion early on the day of play and the staff will do their best to join them with a two or three-ball group.
There is no obligation on the existing golfers to make up a four-ball but common practice is that single golfers are warmly welcomed. With patience, this can be successful but there are no guarantees. While it is very last minute, it ensures that almost no time or slot in a four ball goes unused.
With so many world-class golf courses to play in Scotland, see our other popular golf tours including our Best of Scotland Golf Tour and our Golf & Whiskey Tour.
See also:
Contact us today to book!