Five Essentials For Your Golfing Trip To Scotland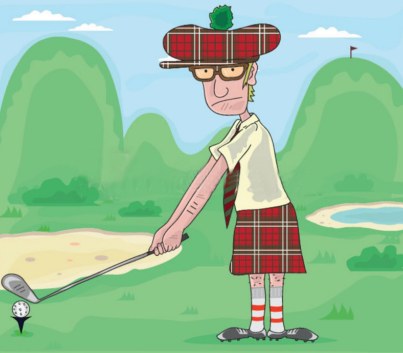 A translator to understand your caddie!
It can be surprising when you talk to your experienced caddie that he is actually talking English. They may be a little difficult to understand initially but you will soon get used to the accent… and they are extremely friendly. We have had a word with Apple and there may be a translator app soon for your iPhone!
Plenty of Layers… and a Hip Flask
People talk about Scotland's weather being a consistent torrent of wind and rain but this is a complete myth. Scotland's summer has some sunshine and showers and a resident onshore breeze. What you will find is that the temperature will fluctuate throughout your rounds due to the wind so ensure you have layers. Thin, layered clothing will help keep you warm while also allowing you to stay flexible while golfing. Within these layers, you will need to include the rain gear, but unless you are very unfortunate you will play on more dry days than wet days on your Scotland golf vacation. And add to that a hip flask to ward off the chillier days with your favourite tipple, and you will be warm in the inside.
Your Texas Wedge… or two!
Scotland's famous courses need to play with a little imagination… the target golf strategy which works so well on American golf courses will not work well here. Using what has been called the "Texas wedge" from many yards off the green will pay dividends in your score and will confirm the old adage that your worst putt can often be the same as your best chip! Also you will find that it becomes a real delight to set off a 40 yard putt that ends up with in a few feet of the cup – nothing is more satisfying. We also suggest that you add a second putter for the times when your favourite is just not working as well as it should.
A Hybrid
Finding the fairway in Scotland is very important as you can gain some much distance on the often hard and dry links fairways. With this however, the failure in not finding the fairway will result in the loss of distance and a sometimes a sideways second shot! Playing a hybrid more times than not from the tee and with a favorable wind you might not even notice much of a reduction in driving distance. The Hybrid is also really easy to play and will come in useful for the longer par 4 second shots which you will likely encounter when the wind is more in your face.
A Kilt
If you have some Scottish heritage and want to show it off, then pack your tartan. There is nothing better than coming down to dinner in your finery and experiencing the hospitality of the Scottish people and enjoying the evening as many of your Scottish ancestors have done before you. You may also want to wear your tartan on the course as well – this is OK as long as you do not encounter a blustery day when we would advise you not to follow the tradition of the lack of "under kilt" attire!
Learn more about our quality bespoke Scotland Golf Tours here.