Dr. Alister MacKenzie – Leading Golf Architect
Dr. MacKenzie is viewed by many experts as the leading golf architect of the 20th century and was nicknamed "the Course Doctor". He is particularly famous for his designs of the world renowned courses Augusta National, Cypress Point and Royal Melbourne but he also designed many lesser known courses. His career as a golf architect lasted from 1903 to 1933. Golf equipment has changed significantly in the last 100 years so we decided to research the current state of courses that he designed in the UK and Ireland so that we could recommend to our client's genuine MacKenzie courses that they would enjoy. We would then consider some examples of MacKenzie Trails.
Dr. MacKenzie has long been something of an enigma. He wore kilts but having been born in Yorkshire England he wasn't a Scotsman but was from a Scots family. He was a qualified medical doctor, but moved into golf architecture. He was quoted as saying: "How frequently have I, with great difficulty, persuaded patients who were never off my doorstep to take up golf, and how rarely, if ever, have I seen them in my consulting rooms again!" He designed outstanding courses, but he was at best a mid-handicap golfer. He was highly sought after as a designer, but he was not financially sound when he died. The course doctor was one of golf's most eccentric fascinating, brilliant and colorful characters.
His revolutionary design beliefs
Dr. MacKenzie wrote some general principles of golf course architecture but he also had specific views on greens, bunkers and other hazards. He believed in blending hazards into the course to maintain a natural appearance. His greens were often two tiered which was innovative at the time and sometimes three tiered. He liked large contoured greens with several options for varying the hole position. Some greens were set at an angle to the fairway. Golfers now found it necessary to hit the approach shot to a specific portion of the green and this would only be achieved from a certain area of the fairway. This required players to think back from green to tee in order to place the drive in the ideal spot.
MacKenzie's approach to bunkers was novel as well. Instead of traditional 'pot bunkers' they were large and visible confirming their strategic importance, He often introduced clusters of bunkers sometimes referred to as 'finger bunkers'. The position of his bunkers emphasised the penalty awaiting a poor approach shot played from the rough or the wrong part of the fairway. He used sculpturing and imaginative mound work to tie the bunkers in to the other fairway and greenside features. This gave the impression that everything was natural. He had the imagination to create bunkers that cloud the line between strategy and art. He combined artistry with scale, intimidation and great strategy. His is still the standard to what any architect must hold his bunker work,
He was quoted as saying "No hole is a good hole unless it has one or more hazards in the direct line of the hole"
His 13 general principles
The course should have beautiful surroundings. Where possible it should be arranged in two loops of nine holes to use the wind from different directions. There should be a large proportion of good two-shot holes, and at least four one-shot holes. He wanted little walking between the greens and tees and every hole to be different in character with a minimum of blind approach shots.
He proposed a complete absence of the need to search for lost balls and an infinite variety of strokes required on various holes to utilize every club in the bag. The course should be so interesting that even the scratch player is constantly stimulated to improve his game. It should be so arranged that all levels of players can enjoy the round despite making a high score. The course should be equally good during winter and summer, the texture of the greens and fairways should be perfect and the approaches should have the same consistency as the greens. There should be some heroic carries and the greens and fairways should be sufficiently undulating.
Our approach to developing the 4 trails
In this series of articles we have looked at about 70 courses and from these have devised four suggested MacKenzie Trails. We have set a very high standard of quality and MacKenzie content and selected only 16 different courses, all in England. We considered six courses in Scotland and six in Ireland. Three in Ireland had the quality and content but many great Irish courses were designed by MacKenzie's partner Harry Colt. A Colt/MacKenzie Trail in Ireland is something that we will consider in the future. He did not work a great deal in Scotland or Ireland and for various reasons we could not put together a trail in either that would meet the high standard that we were seeking.
We found that his work had often been lost where he had worked at higher ranked courses where professional and some amateur tournaments are held regularly. It was necessary to lengthen or toughen the course to deal with modern equipment and super athletic golfers. These golf clubs often called in golf architects who made major alterations. Clubs that do not get considered for European Professional Tournaments or top Amateur events needed less upgrading. For many clubs the MacKenzie course was challenging enough for their members and visitors. They have been able to keep the design and perhaps just move some tees back. We are fortunate to still have his legacy as the designs go back to the period 1903 to 1933. Some clubs lost MacKenzie yardage through misfortune, one had 9 holes built on at time of war, another lost land to motorway development and others sold land for development and moved.
The sixteen courses that we considered could be called "The Most Authentic MacKenzie Courses in England Today" are:
Alwoodley, Moortown, Seaton Carew, Littlestone, Crowborough Beacon, Hadley Wood, Willingdon, Teignmouth, Weston Super Mare, Sutton Coldfield, Reddish Vale, Cavendish, Bolton Old Links. South Moor, Shipley and Crossland Heath.
Ten of these are Moorland or Heathland or both. Three are seaside links which he did not often have the opportunity to design. One is Downland which only occur in chalky downs in Southern England. Two are parkland.
We have a 20 points scoring system which is quite demanding. Our top 6 scored between 15 and 19, the other 10 scored between 10 and 13. No system is perfect, if anyone thinks that we have missed a worthy candidate we will check it out. They need to be strong on general quality, interesting MacKenzie history and maintaining Mackenzie principles throughout a high proportion of the course.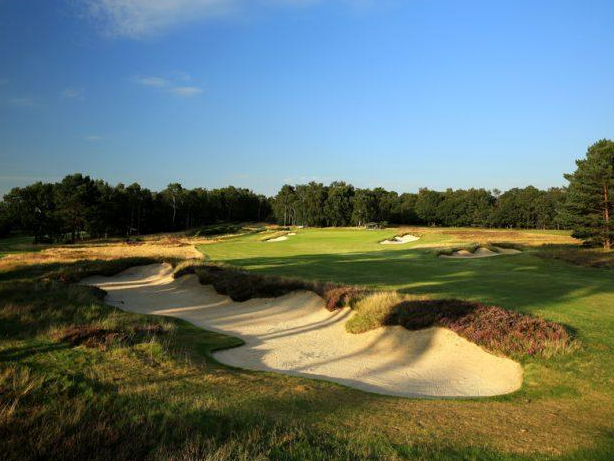 8th at Alwoodley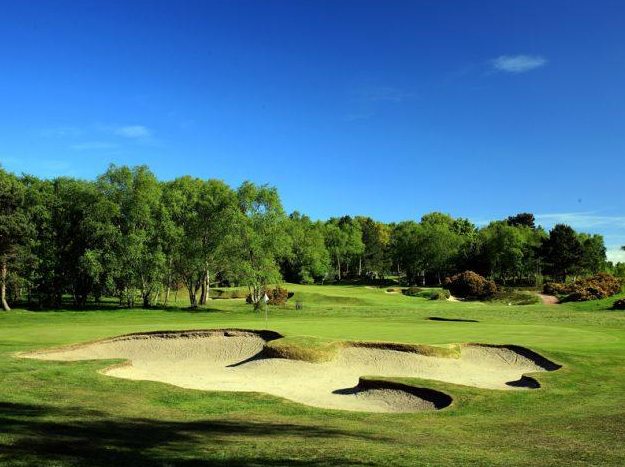 9th green at Moortown
See our golf tours all around the UK and Europe, we have a fantastic range of Ireland golf tours.
To find out more about our bespoke Ireland golf holiday packages, contact us today.
See all our Ireland golf tours: