Concra Wood Golf and Country Club an experience for a memorable Ireland Golf Trip
Concra Wood Golf and Country Club an experience for a memorable Ireland Golf Trip
Overlooking Lough Muckno is Concra Wood Golf and Country Club in Castleblayney Co. Monaghan. What other golf course can boast such a location with views over the Monaghan drumlins to distant mountains?
Lough Muckno and the golf course are gloriously entwined around tree-bound islands and along the shore, the lough is one of Ireland's most beautiful and evocative settings for golf and will become one of Ireland's and Europe's finest golf courses and an ideal destination for an Ireland golf vacation and trip.
Eleven holes lure you to the water's edge, promising danger and excitement time and again. It makes Concra Wood a stern and beautiful test of golf, whatever your ability.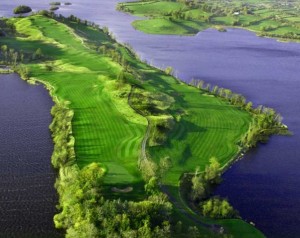 The course was designed by two of Ireland's golfing legends: Christy O'Connor Junior and Senior.
Their names are already embedded in Irish golfing folklore with Christy Junior's famous Ryder Cup victory over Fred Couples and his two British Open Seniors victories sealing his reputation.
Christy Senior is regarded as one of Ireland's most influential golfers of all time, with 24 Tour victories and 10 Ryder Cup appearances.
An ideal course for an ideal Ireland Golf Package trip destination
For the first time, this nephew and uncle pairing has combined forces to create a course that will achieve international acclaim.
Located on this remarkable landscape Concra Wood is a jewel that will challenge and thrill golfers of all standards and, with its scenery, international fishing reputation and a magnificent clubhouse, it will be an experience you never forget.