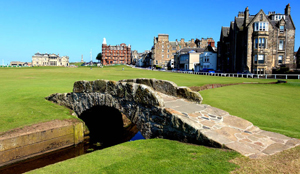 Important vote in Scotland this Thursday
You would be forgiven in thinking if this headline relates to the future of the UK, but for golfers there is a very important vote that will change a club's history which has been in force for 260 years!
The R&A set to allow women members after 260 years… well if the vote goes that was which will end over two and a half centuries of division in Scotland.
The Royal and Ancient, some say, is one of the oldest golf club in the world, having been founded in 1754 with its members playing on the links of St Andrews, which is renowned worldwde as the "home of golf."
Interestingly enough women are allowed to play golf at St Andrews as the course is governed by a separate operation, but if the players fancy a drink after their rounds in the clubhouse they have had to think again. In addition, the R&A were divided 10 years ago to keep the playing side separate from the governance operation, as the R&A is the rulemaking body for the sport around the world apart from the United States.
Thursday's vote is to allow women to join the club which will host the men's Open again next year. However, as members of the R&A's various committees can be drawn only from club members, it effectively opens the doors for women to finally have a say in the running of the game. Members will also be asked that in the event of a yes vote, they agree to "15 females" being given immediate membership, and a list already drawn up featuring women who have made a significant contribution to golf.
So with the vote imminent maybe it is time to take your loved one the home of golf and celebrate this historic event. Take a look here at some special Scottish tours we have created, or if you would like something a little special give us a call.